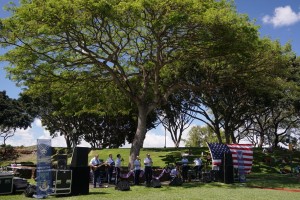 Music in the Park is a nice way to enjoy a Sunday afternoon here in West Loch Fairways!
We were entertained big time with the talents given to us by the Band of the Pacific joint Base Pearl Harbor/Hickam group called "Hana Hou". It was a one hour blast of upbeat music.
The band's back drop, stage and seating were set up by your WLF Board members: Tom Hiltner, Michael Nii, and Richard Ashley and my family.
Tom and his wife lugged a 10×20 foot tent from their home, and set it up so that older residents could sit comfortably on chairs and be out of the sun.
Michael my son and our daughter-in-law Kathy helped hold the 19×9 foot flag while Richard and my husband secured the flag. They also helped setting-up and taking down 75 chairs and three tables.
I must give special acknowledgment to the support and patience my husband Larry! He always goes out of his way to do the things a 5"1" old lady cannot do, either too weak or too short for the task.
The WLF Site Manager delivered fliers to various homes as his time allowed, and also is the one who posted the banner and notice on the Bulletin Board.
All of these people are responsible for making this event successful. I appreciate them all, and everyone who attended.
We will continue to come up with more Association Events aiming to please and hoping to generate participation from our Membership.
Always interested in your thoughts about bringing our community together.
Call me anytime.
Yvonne Dembinski
WLF Social Chairperson 681-5373
The First Annual West Loch Fairways Appreciation Concert
When : JUNE 7, 2015
2:00pm – 3:30pm

Where : West Loch Fairways
TOT LOT PARK 
Bring your blankets and picnic eats and enjoy great LIVE music provided to us by a group of musicians from the Air Force Band of Pearl Harbor/Hickam called Hana Hou.   This is to kick off the celebration of Flag Day, and this group we will hear is very, very entertaining, they play everything from rock to top 40's hits as well as Hawaiian and Patriotic.  It is a mixture of brass, guitar, drummers and even a female vocalist!     Some chairs will be provided also, but you may just want to lay back on your blankets and relax.