February 9, 2019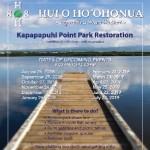 The next work day for Kapapapuhi Shoreline Park is February 23, 2019. Please check out all the work that has been happening. We are removing tons of invasive mangrove. Go to HOH808 Facebook  or website
January 11, 2019
The 2018-2019 Kapapapuhi Park Restoration Work Schedule.
December 16, 2018
On August 9, 2018 John Rogers presented a resolution to the Ewa Neighborhood Board Number 23 requesting that the City and County of Honolulu prioritize the repair of the West Loch Shoreline Park Pathway and Honouliuli Bridge. The Ewa Neighborhood Board adopted the resolution.
The plan as late as this summer was that the Leeward Bikeway Phase 1 was to start construction early 2019. I have been informed that negotiations between the State of Hawaii Department of Transportation (HDOT) and the State Historic Preservation Division (SHPD) and the Hawaiian Railway Society (HRS) have broken down. In order for the HDOT to complete the Environmental Assessment an agreement has to be completed with SHPD and HRS  to comply with the National Historic Preservation Act (NHPA) Section 106. It seems that the HDOT does not want to accommodate what some would consider reasonable demands by the SHPD and HRS to ensure that the historical value will be enhanced with the building of the Leeward Bikeway.
Please contact your State of Hawaii Representatives: Senator Mike Gabbart, Representative Cullen TY and Representative Robert McDermott to let them know that you want the Leeward Bikeway Built ASAP.
August 6, 2018
As many of know, the West Loch Bike Path is in much need of being repaved and the bridge over Honouliuli Stream is in immediate need of replacement or repair.
John Rogers is going to present to the Ewa Neighborhood Board on the condition of the bike path and surrounding park and request they adopt a resolution requesting that the City prioritize the path's repair. When the DOT finishes the Leeward Bikeway Phase I (set to breakground in 2019), this connected with the West Loch path and Pearl Harbor Bike Path will create a continuous bike path from Ewa to Aloha Stadium.
Your support at the meeting would help make sure this resolution is adopted and help push the City to repair the path.
Ewa Neighborhood Board, Thursday 8/9 7:00pm, at Ewa Beach Public and School Library, 91-950 North Rd, Ewa Beach
John put together this Google folder with the proposed resolution and pictures of the trail condition for everyone to look.
Leeward Bikeway Project Fact Sheet