Earlier this month another rubbish can at Lookout Park was vandalized. This time an explosive was used to destroy the can.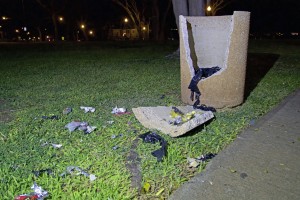 For up to date Honolulu Police Department Crime Statistic check out the HPD Website. WLF is in District 8 sector 3
New Feature on the Website: 
CrimeMapping.com has been developed by TriTech Software Systems to help law enforcement agencies throughout North America provide the public with valuable information about recent crime activity in their neighborhood. Our goal is to assist police departments in reducing crime through a better-informed citizenry. Creating more self-reliance among community members is a great benefit to community oriented policing efforts everywhere and has been proven effective in combating crime.
CrimeMapping.com utilizes an advanced mapping engine, which helps us provide a high level of functionality as well as flexibility to the agencies we serve. Crime data is extracted on a regular basis from each department's records system so that the information being viewed through a Web browser is the most current available. This data is always verified for accuracy and all address information is generalized by block in order to help ensure privacy is protected.
You can also set it up to receive alerts when there is crime activity in the neighborhood
Past Crime Statistics for 2015
HPD introduces SMART911 a service which allows households to set up a safety profile with 9-1-1 first responders to speed up and facilitate a more effective response. Sign up at smart911.com.